PIPE Investment into Gold Mining
You are continuing your Theme Vitrine read:
Why Africa?
Africa is consistently represented in numbers among the fastest growing economies globally (EIU/Economist)
Increased political stability and democratic changes
Significant improvements in infrastructure support
Power, transport, water, human capacity
30% of total IFC commitments go to Africa
Demographic size, growth and mobility
Approximately the same aggregate GDP to Middle East
Three-times more people than the Middle East
Good yet virgin geologies in many parts of the continent
Mining assets neglected more than elsewhere in the world, while its costs of production can be kept under control
Mineral content typically higher than in other world regions which have been exploited for longer periods than Africa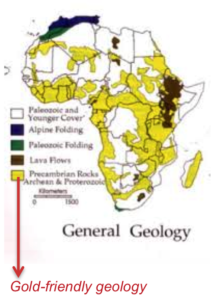 Africa Benefits:
Vast untouched, under-tapped, undeveloped potential is highest of populated workable continents
Large deposits are still being found in Africa, and as infrastructure & power are coming into Africa, it becomes a cornerstone and right time to own the best African assets
Strong human resources potential and not as costly as on other continents, coupled with fast permitting and inviting communities
African mines can have exceptionally good economics; unlike say the Americas with many environmental and political bottlenecks
In certain key areas of Western, Central and Eastern Africa there are good chances to get low cost and fast payback on large assets
Western Africa has no high mountains which makes it easier for mining; while being able to mine in weather-oxidised conditions
In most regions gold mining benefits from predominantly dry environments with proximity to water (even if seasonal)
Less competition, and generally more friendly / transparent for foreign investors
Contract Mining Case Study:
—Contract mining ties in well with mining businesses, especially for smaller mines which may want to avoid owning and transporting equipment & people
—Dependent on the mine size & life, as well as the significance of mining costs overall, the owner needs to do a detailed cost-benefit analysis

—This choice extends through all the functions involved from equipment ownership & maintenance to loading & hauling, de-watering, ground support, dumps and stockpile maintenance, rehabilitation, feed crusher, etc.

—Contract mining companies can offer a number of advantages to mine owners including:

Larger dose of flexibility & scalability
Smaller dose of capital & risk

—A pool of smaller gold assets in say Ghana, like those of Abzu Gold, Castle Peak Mining and Ami Resources could greatly benefit from a relationship to a contract service company present on the ground
—Contract miners also tend to get higher leverage than the resources companies – on average a third opposed to a quarter financed by debt

Some of this extra access to financing could trickle down in advances to the mine owners
African mineral sweet spots:
Africa has more than gold though:
So for example, we have in the past looked at following countries / clusters with related minerals and/or concepts:
Tanzania & Burkina Faso: top 5 Gold producers on the continent
Burkina Faso, Ivory Coast & Ethiopia: Centamin concessions
Madagascar: Ambatovy nickel-cobalt mine
Niger & Namibia: Uranium
EAST AFRICA: Gold production
SOUTHERN AFRICA: Copper & Precious metals group ± Platinum development ± Steel making & other higher-value specific metals
NORTH AFRICA: Base metals & Precious metals vein ± Under-appreciated assets & exceptional exploration opportunities
CENTRAL AFRICA: Copper ± Gold ± Tin, tantalum & tungsten ± Rare earth deposit
WEST AFRICA: Gold deposit ± Manganese production ± Bulk commodity assets
But let's stay on track…
Ghana Case Study
Ghana Gold Belt Geology:
Before gaining independence from Britain in 1957, Ghana was called the Gold Coast. The gold fields lie in the southwest and western part of the country. They consist of five parallel, evenly spaced volcanic belts trending southwest to northeast and averaging some 400 km in length. In order, starting from the east near the capital city of Accra, the belts are named the Kibi-Winneba, the Ashanti, the Sefwi-Bibiani, the Bui-Banda, and the Bole-Nangodi.
Between the belts are sedimentary basins punctuated by masses or intrusions of igneous rocks, mainly granites. Gold deposits are found along the margins of the volcanic belts, called "shear zones", where the intrusions met the volcanic rocks. Heat and tectonic pressures chemically altered metallic compounds, producing sulfides and arsenides of gold which then percolated through the host rock and were deposited in fractured quartz veins.
The most prolific of the belts by far is the Ashanti Belt. On its eastern margin are Golden Star's Wassa mine and Newmont's Akyem. Ghana's most important gold mines, however, are on the western margin: AngloGold Ashanti's Obuasi and Iduapriem, Golden Star's Bogoso and Prestea, GoldFields' Tarkwa, and Endeavour's Nzema.
There are fewer mines in the more westerly belts, but some of them are particularly notable. In the Sefwi-Bibiani Belt there are Resolute's Bibiani, Kinross's Chirano, and Newmont's Ahafo. The Bole-Nangodi Belt stretches from Kinross's Bole mine on the border with Ivory Coast beyond Nangodi to the Youga mine in Burkina Faso.
Interestingly, although exploration is still confined largely to belt margins, advanced geochemical and geophysical techniques have found significant gold deposits in the basins. An example is Asanko Gold's Esaase prospect, in the Kumasi Basin between the Ashanti Belt and the Sefwi-Bibiani Belt.
Ghana Gold Snapshot:
Ghana has a long history of gold mining, being a global top ten market by reserve and by production
2nd largest gold producer in Africa, dominated by large scale mining companies
– Bulk open-cast mining with lower technology adaptation
– Other important minerals are manganese, bauxite, aluminium & diamonds
Strategic geographic / trade position in West Africa; politically stabile with a favourable investment climate
– For Africa relatively low gold tax burden (certain levies increased recently, is it still attractive?) and high labor productivity
Good infrastructure and mining legislation – but the major impediment is the chronic lack of electric power:
– Reduced capacity utilisation and suspended expansion activity
– CAPEX requirement for non-core activity and heavy-duty imports
– Poorer implementation of EHS standards (waste water & mine safety]
All included, Ghana is one of the favourite African destinations for miners
Sample Canadian companies with Ghana gold assets:
Kinross Gold ± Asanko Gold ± Endeavour Mining ± Golden Star Resources ± Castle Peak Mining ± Ashanti Sankofa ± Abzu Gold
Sample African Interest
Whether Ghana gold or other places across the vast mineral-rich continent, judging by the past M&A activity reports & footprint- a large number of players form only a sample of exit opportunities-looking at early gold assets, but from different angles (strategies & criteria):
Gold is at the heart of this Theme Vitrine , with PIPEs making the investment easier & Africa making it cheaper… Setting a potential PIPE Investment into Gold Mining deal into play as described in the text to be unlocked for 'a fistful of gold' : )
Just kidding, you can write us with a genuine wish to discuss the opportunity further, and we will send you the password to the third & final section of the PIPE Investment into Gold Mining theme: It includes the experts involved, their stock picking method, the deal size, expected value & the structure…
Theme Related Tracker